A few months back, we tried out the Thin Stix products for the first time.  We were so excited to receive Thin Stix Creativity Pack from The Pencil Grip, Inc. to review one of their other great products.
About the Product: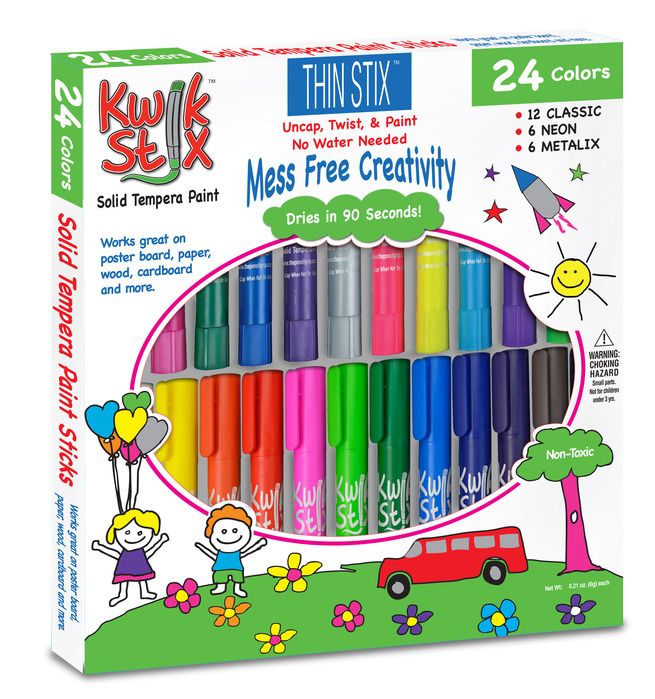 The 
Thin Stix Creativity Pack
 consists of 24 wonderful colors from solid tempura paint.  Included are 12 classic colors, 6 neon colors, and 6 Metalix.  Drying in only 90 seconds, Thin Stix are prefect for mess-free creativity.  To create, simply uncap and twist up the paint and then use it on paper, wood, poster board, cardboard and more!  Very much like coloring with a marker, only it's with paint!  Thin Stix are intended for ages three and up.  They are non toxic and no water, cups, or even smocks are needed for use!
Our Thoughts:
Thin Stix!  Oh how I love you!  I am seriously not a fan of art projects with kids and avoid them most of the time!  Thin Stix make painting a million times better with it's mess-free aspect, plus the kids love using them!
When our package for this review arrived and I opened it, the kids gave a cheer when they realized that we were reviewing the Thin Stix again.  This followed by oohing and aahing over the different colors that were in this package.  The kids couldn't wait to get their hands on them!
We saved it for a rainy day activity during the toddler's nap time and then I let them have at it!  I was impressed at how sparkly the Metalix Thin Stix are and how vibrant of the colors seem to be.
I asked my 6 year old what she liked best about the Thin Stix Creativity Pack and here is what she said:
I like that there are sparkly ones and lots of different colors and shades of my favorite colors.  I really like the pink sparkles one!  I am going to use them to make lots of pretty pictures!
And here is what my 11 year old had to say:
I like that they are paint and dry very quickly.  I plan to use them to color and paint, especially when I have a school project that needs a decorated poster board.
At the time, only those 2 and the toddler were home, but when the other 2 walked in the door, they immediately joined in on the fun!
Even after page upon page of creations were made, the Thin Stix kept on hanging in there.  These can definitely be used for an extended period of time.  We look forward to checking out more items from The Pencil Grip, Inc company in the future.
For More Information:
You can purchase Thin Stix from BJs website and many other places as well.   The Pencil Grip, Inc company has a lot more to offer than just the Thin Stix!  See their website to check out all the varieties and colors of the Thin Stix, a variety of therapeutic toys and products, fidgets, and pencil grips.
For more information, you can also visit The Pencil grip on Facebook, Twitter, and Pinterest.  You can also click the banner below to read more reviews on this product and others by other homeschooling families below: