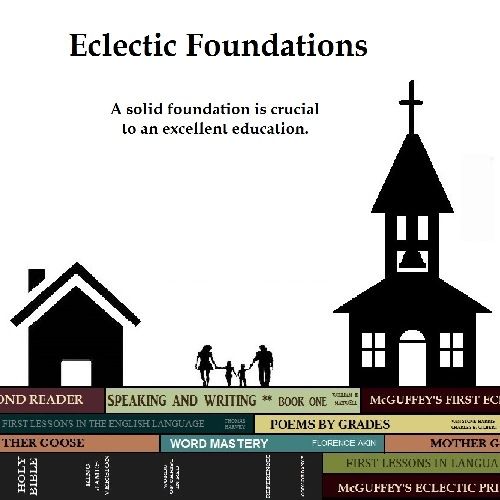 The past few weeks, I've been looking over
Eclectic Foundations Language Arts Level B
 the past few weeks in order to provide an 
Eclectic Foundations
 review.  I have been using this program with my 7 year old as part of the Homeschool Review Crew.  She has been struggling with reading the past few years, but I think she's really starting to catch on now and I think this program has helped reinforce her knowledge.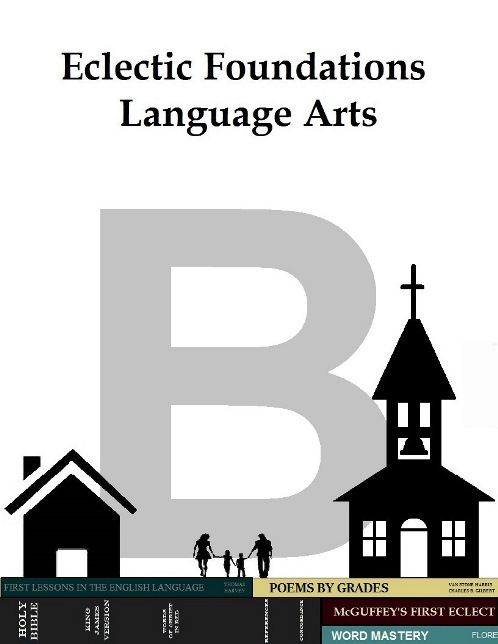 About the Product:
Eclectic Foundations consists of 144 lessons to cover 36 4-day weeks, a complete year's worth of lessons.  Each level covers Phonics, Grammar, Spelling, Reading Comprehension, Handwriting, Composition, and Poetry, so no need to buy extra books.
McGuffey readers are utilized in the Eclectic Foundations program.  The guideline for levels is as follows:
Eclectic Foundations Level A uses Eclectic Primer: 1st grade
Eclectic Foundations Level B uses 1st Eclectic Reader: 1st–2nd grades
Eclectic Foundations Level C uses 2nd Eclectic Reader: 3rd–4th grades
Eclectic Foundations Level D uses 3rd Eclectic Reader: 5th–6th grades
Eclectic Foundations Level E uses 4th Eclectic Reader: 6th–8th grades
Eclectic Foundations Level F uses 5th Eclectic Reader: 7th grade–college sophomore
Eclectic Foundations Level G uses 5th Eclectic Reader: 7th grade–college sophomore
Eclectic Foundations Level H uses 6th Eclectic Reader: 9th grade–college senior
Eclectic Foundations Level I uses 6th Eclectic Reader: 9th grade–college senior
It's important to note that if your child recognizes letters, they may do better with Level B as Level A assumes that your child does not know their letters and cannot read.
Eclectic Foundations Level B is for the student who recognizes simple words and is ready for silent e words and covers McGuffey's First Reader.  Phonics utilizes word lists from Word Mastery by Florence Akin.  Handwriting consists of letter practice, famous quotes, short poems, or the "slate work" from McGuffey's First Reader.  Each week offers a new poem and comprehension questions.  You can view the scope and sequence for Level B here.  You can also preview the first 4 weeks to get a feel if it's a fit for your family.
The products are available in both paper copy and digital download and are very reasonably priced.
My Thoughts:
I really appreciate the simplicity of this program.  All of the books are spiral bound which I just love.  It's so much easier when books lay flat!  With the Phonics Practice Sheets being laminated, they can easily be reused for extra practice, which makes me happy as well.
The Teacher's Guide walks the teacher right through every step of the program and explains what to do and how to do it.  It has suggested questions to ask your child to ensure comprehension.
Having several subjects all combined into the Language Arts Student Workbook makes it easier to stay focused and get the day completed.  We can easily transition between handwriting/copy work, poetry, grammar, etc.  Most days only offer a page of work, so I would likely be inclined to add a little more, however I think it would be fine as a stand alone as long as your child doesn't need extra practice.  If they do, the Phonics Practice Sheets are perfect for that!
My daughter didn't mind doing the work, although it wasn't her favorite thing.  She found it a bit easy, but I think that it was great to help give her more confidence in her language arts studies.    The work is fairly simple and not distracting with pictures and colors so that worked great for her personality type.
For More Information:
For more information, please visit Eclectic Foundations on facebook.  You can also see more reviews on this level and othersby the Homeschool Review Crew by clicking the banner below.