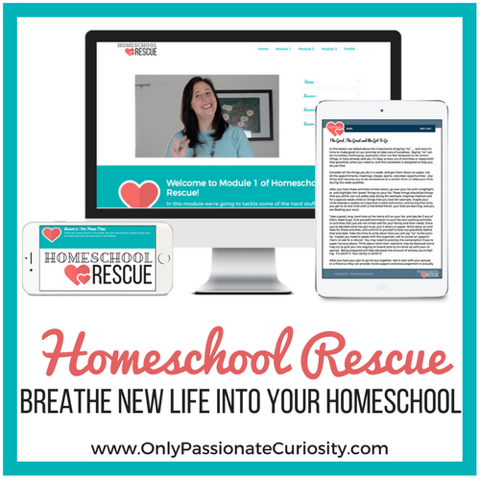 If I were to be honest with all of you, I have been facing some major homeschool burnout lately.  At just the right moment, I was given the option to review the 
Homeschool Rescue
 program from
Only Passionate Curiosity
.  It sounded good in theory, but I had no idea how much it could change me in a few short weeks.
About the Program:
In just 60 days, Homeschool Rescue can help you go from stressed and broken homeschool mom to feeling more confident, organized, and passionate for homeschooling with more time for the stuff that you want to do.  Each lesson takes about 20 minutes or less of a video course and then some "homework".  The homework is printable worksheets to start getting your thoughts down on paper and preparing to be more efficient in your schooling.  You can go at your own pace and do the program at your convenience.
There is also an online support group for homeschooling parents where "being real" is encouraged and frustrations and successes can be talked about with other moms.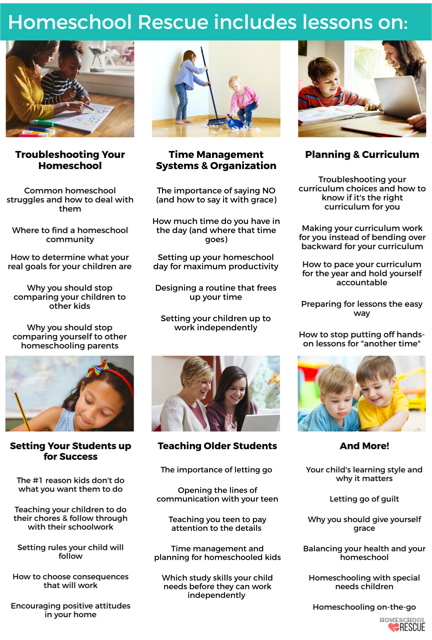 There are currently 5 modules in the program.  Course content includes studies on the following:
Triage Your Homeschool
Time Management Systems and Organization
Curriculum Planning and Organization
Setting Students up for Sucess
Teaching Older Students
And More!
Prices start at $97 for the eCourse or $137 for the eCourse along with one-on-one coaching sessions.  This is the one time, lifetime access price!
My Thoughts:
Goodness I knew I needed this course!  With 4 homeschooling kids and a wild toddler, I have been thinking about throwing in the towel.  Some days around here are crazy!  During the course, I learned a few tips on toddler wrangling during our homeschool day, but most of all, I learned that it's ok to have an off day!  I really enjoyed the tips on getting organized and so I'm already starting to plan, in detail, our next school year.
The lessons on pacing the homeschool subjects and eliminating ones that weren't benefiting us was also helpful.  My biggest takeaway was remembering to look around my house and getting rid of things that do not bring any joy to our lives.  Decluttering and cleaning out household stuff and curriculum will help me be more relaxed and ready for each day.
I have also found the online support group to be extremely helpful.  I was able to ask questions and get feedback from other moms.  I  can learn from them and they can learn from me based on our prior experiences.  That's how life should be!
Even if I wasn't writing a review, this would totally be worth the investment for the encouragement, tips, and printables.  With the printables, I made myself a binder and as I worked through the course, I put the pages in the notebook so I could keep up with my goals.  I cannot recommend this program enough if you are a homeschool mom.  You can benefit whether you have all littles, all bigs, or a mixture.
For More Information:
For more information, please visit the Homeschool Rescue website.  Enrollment is going on right now to take the course this summer.
You can also find out more on their Facebook, Twitter, Pinterest, Instagram, or Google+.  You can also click the banner below to read more reviews on this product by other members of the Homeschool Review Crew.