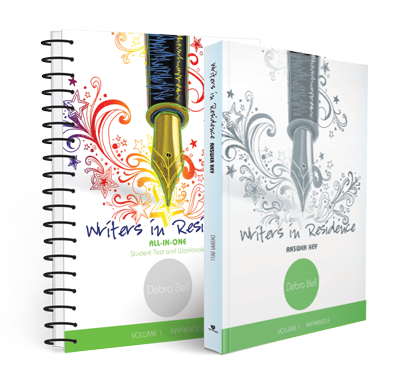 Y'all, I am just LOVING being a part of The Old Schoolhouse Review Crew.  I have had the pleasure of reviewing another great item that just came out toward the end of last year.  
Apologia Educational Ministries
has brought out a new homeschool writing curriculum called
Writers in Residence
.
About the Program:
Writer's in Residence is a complete writing curriculum that includes grammar, punctuation, and capitalization.
What I Like Best:
I have been very impressed with Writers in Residence as we have working on it the past few weeks.  I am a big fan of things that knock out several subjects at once!
Writer's in Residence is also appropriate for grades fourth through eighth, making it ideal for families with multiple children.  I've been able to sit down at the table with both of my older kids (finishing up third grade and seventh) after purchasing an additional copy and us work through the program together.
Before each lesson, there is an interview with a Christian author.  It has been interesting to read about how various authors started writing.  I've been learning right along with the kids in this aspect.
The program walks you right through each step as a parent.  Writing has been one of the hardest things for me to teach my children, and normally we outsource through co-ops or classes.  Writers in Residence walks you through each step of writing and has a detailed lesson plan outline for four days a week for thirty-two weeks.  This helps out this busy mama tremendously!  I definitely see us being able to use this program instead of having to have someone else help out with writing.
The Suggested Daily Schedule keeps us on track and helps hold me accountable that we are getting done what we need to get done.   We are typically able to get our writing work finished in about 30 minutes, depending on where we are in our writing module.
The Writer's in Residence assignments cycle through four types of writing tasks throughout the curriculum:
I Remember: assignments focused on the personal narrative
I Imagine: creative writing assignments such as short stories, poetry, and novels
I Investigate: research skills assignments
I Think: tasks that teach opinion and argument writing, including persuasive and argument writing
For grading, there is a Checklist Point System at the end of each Module.  This was very helpful to me as a mom so I could grade them fairly and accurately.
I really hope that Apologia Educational Ministries comes out with more writing programs like this one.  The kids and I are both enjoying it and we are eager for more to use in the future.  I'm already seeing a noticeable difference in my children's writing, even after these short weeks we've been working on it.
More Information:
Writers in Residence is available as a complete set of text and answer key on their website for $89.  The spiral bound softcover book is 576 pages long and uses the ESV Bible for the verses it includes.
You can find out more information on Apologia's website, or on Facebook, Twitter, Instagram, or Pinterest.
Click the banner below to read more reviews on Writer's in Residence by the Schoolhouse Review Crew.