We had the opportunity a while back to review Apologia's Writers in Residence, so I was thrilled when we were offered the chance to review Apologia Educational Ministries' Readers in Residence Volume 1 (Sleuth) by Debra Bell.  I couldn't wait to get my hands on this set and it did not disappoint!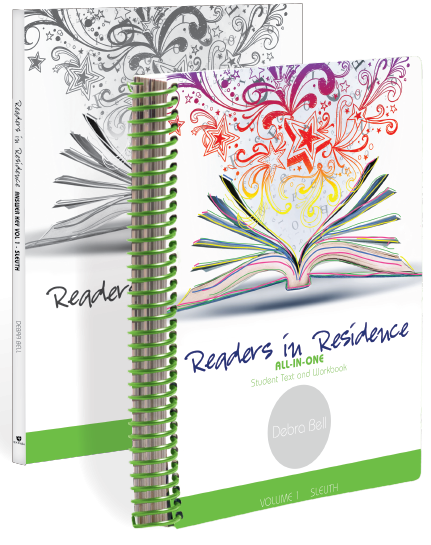 About the Product:
Geared toward students 4th grade and up, Readers in Residence helps students with what they are reading through various activities.  This program is also appropriate for older students that need a little assistance in comprehension.  Throughout the book, students will cover vocabulary, reading comprehension, and literature.  It's the perfect complement to the Writers in Residence set as well.  Readers in Residence covers some books that you might have already on your book shelves such as Sarah, Plain and tall, Charlotte's Web, and Because of Winn-Dixie.  The suggested schedule included provides plans for 32-four day weeks plus 5 book club days.  6 units are included and divided into 14 modules.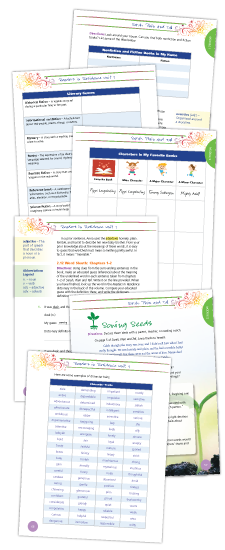 My Thoughts:
I am always a huge fan of book that are spiral bound.  They are so much easier for students to write in!  This one has a nice big spiral for the student book.  I'm also a huge fan of a program that gives me a suggested schedule to stick to throughout.  With 5 kids of various ages, I'm to the point where I NEED to have more guidelines so that I can make sure each school age child is on the right timeline for finishing their year's worth of work.  We used Readers in Residence with my 4th grade son, but I think it could be easily tailored for younger or older readers.
The Answer Key was very helpful to me in suggesting possible answers and how to teach various subjects.  I really like how Readers in Residence takes a book bit by bit and enhances it so children can comprehend more about what is happening in the book.  We worked on Sarah, Plain and Tall.  Before you even start reading the book together, Readers in Residence covers guessing what the book is about, discovering the author and publisher, reading the back of the book, and using the cover illustration to find out clues to the book.  There was a "Meet the Author" page, where we could learn more about Patricia MacLachlan and her book.  Of course there are comprehension questions in each section as well.
Vocabulary blended right in with the study by taking words from the book and guessing what they mean by the context.  One example is the word "homely".  It shows the book except and then walks students through guessing on what "homely" means through a thinking process.  We even went over capitalization and why certain words in the book and on the cover are capitalized.
Another area that I appreciated was the Sowing Seeds section, where it gives ideas to discuss with a parent or teacher based on what has happened in the book.  There are scripture references to apply to the stories and discuss together.
We really enjoyed this review and are hoping that more books are in the future for both older and younger students!
For More Information:
For more information, please visit Apologia's website.  Also visit Apologia Educational Ministries on Facebook, Twitter, Instagram, and Pinterest.
You can also read reviews from others on Readers in Residence by clicking the banner below.