My kids LOVE to do art projects, but I'm not always fond of the mess that they can bring.  Being completely honest with you guys, giant arts and crafts messes leave me a little bit stressed.  I'm always looking for products that allow my kids to be their super creative selves without compromising my sanity.  We were recently sent a pack of  Thin Stix 6pk of Classic Colors from The Pencil Grip, Inc to review for you guys and we have also been asked to host a giveaway!  I know you all will be excited about that!  
About the Product:
Thin Stix 6pk of Classic Colors from The Pencil Grip, Inc is a remarkable product simply made from tempura paint sticks.  With Thin Stix, you can paint without worrying about a smock, water cups, brushes, or even big messes!  This product dries in a quick 90 seconds or less, while still giving the fun appearance of paint!  Thin Stix work great on poster board, cardboard, canvas, and wood.  Simply uncap, twist, and then paint!  This set of 6 Thin Stix includes yellow, red, green, blue, brown, and black, but different color sets are also available.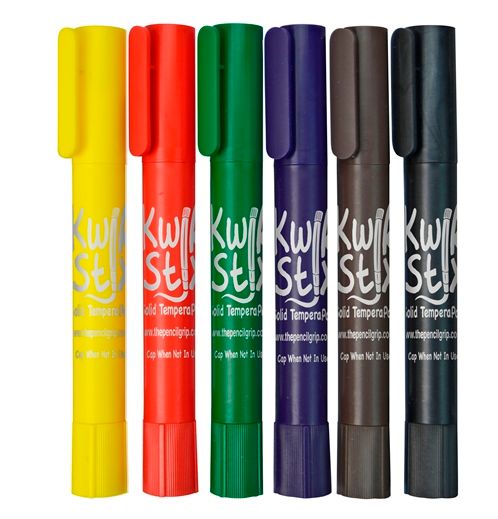 Our Thoughts:
We have had a fabulous time painting on this dreary and rainy day!  We simply pulled out some drawing paper, set the Thin Stix on the table, and got to work.  My kids have their creative juices flowing and are as happy as can be!  I even joined in on the fun for a bit!  My kids have been "painting" for over an hour now and there is virtually no mess to clean up!  The colors are very bright and vibrant and seem to be great quality.
I asked my 7 year old what her favorite part about Thin Stix are and she said she liked how easy they were to use and how great her pictures turned out.  The kids are also asking to use them to create canvases for their room, so I think that will be coming up next on our summer fun list.  The 6, 10, and 13 year olds also enjoyed painting with these.  My toddler doesn't have an opinion since we did this during his nap.  😉
The Thin Stix will be absolutely perfect for the summer days when it's too hot to play outside or during days when it's storming. I definitely can see us using these more throughout the summer and even getting a couple packs to give as gifts.  I highly recommend them for any little artist!
Giveaway:
Our friends at The Pencil Grip, Inc. have generously offered to give one lucky Mommy Octopus reader their very own pack of  Thin Stix 6pk of Classic Colors.  Simply fill out the Rafflecopter below for your chance to win.  Good luck!
For More Information:
For more information, please visit their website or check them out on Facebook, Twitter, or Pinterest.   The Pencil Grip, Inc company has a lot more to offer than just the Thin Stix!  See their website to check out all the varieties and colors of the Thin Stix, a variety of therapeutic toys and products, fidgets, and pencil grips.  We own some of their pencil grips and they work great for helping my younger students with proper finger positioning for writing.  
Thin Stix are available on Amazon.com and are now available at ToysRus.comToysRus.com.
You can also click the banner below to read more reviews on Thin Stix 6pk of Classic Colors or other great homeschool products.  The review was done as part of the Homeschool Review Crew.