I love being part of the Homeschool Review crew.  It's always fun to check out new homeschool material for my children.  The next thing on the list to review are these two American history sets that greatly complements each other.  Our friends at 
Memoria Press
generously provided us with
The Story of the Thirteen Colonies & the Great Republic Set
 and
200 Questions About American History Set
for us to review for you guys.
About the Products: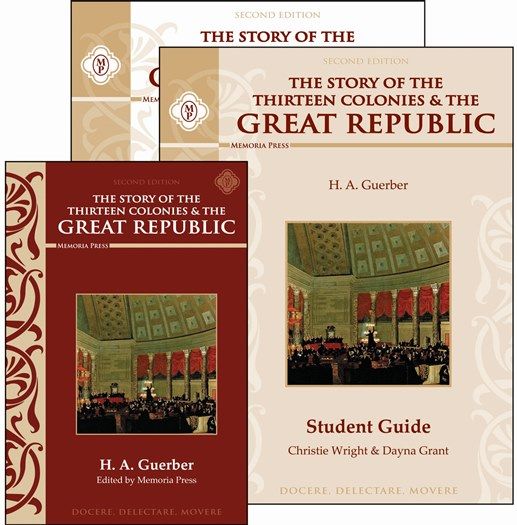 The Story of the Thirteen Colonies & the Great Republic Set
 is made with middle schoolers in mind and consists of a teacher's guide, student's guide, and a text book.  Each lesson has several "Facts To Know" about the subject that help explain key figures or words.  Next comes vocabulary, comprehension questions, and an enrichment section to further knowledge.  There are 32 lessons in this book set.  The teacher's guide has the answers for the student guide and also a tests and keys section.  Maps and copies of important documents and speeches are also included.  The text book is simply The Story of the Thirteen Colonies and the Great Republic by H.A. Guerber.  There are 85 chapters but each chapter is very short and is fairly easy reading.
200 Questions About American History Set
 is a supplement to the set above and features a list of 200 questions that everyone should know about American history.  This set includes flashcards, a student book, and a teacher's guide.  This course is designed to be used over 32 weeks and has a couple book recommendations to go along with it.  Tests and Keys are also included with the teacher guide in this set.
Our Thoughts:
History has never been my thing so I was happy to check out a program that would help me to teach history to my children.  I really appreciate that these 2 sets work together to teach facts and help your students to remember what they have learned.  Inside the 200 Questions about American History Teacher's Guide, there is a recommended weekly schedule.  We were able to follow the schedule fairly close.  It has chapters listed for reading and which drill questions go along with those chapters.  The chapters are fairly short and read like a book, so that made learning easier.
To work both courses, simply look at The Story of the Thirteen Colonies & The Great Republic student book to see which chapters are covered in a particular lesson.  Do the lesson once you have read those chapters and then review your drill questions and take any appropriate quizzes or tests.  Pretty simple once you see how they work together.
I really like that the lessons cover more than just history by working in vocabulary and research topics as well.  I read the chapters to my 2 bigger kids and then my oldest did the lessons.  She didn't seem to mind and quite enjoyed all the enrichment projects.  We worked at a pace of about 2-3 lessons a week and it seemed to be enough.  We were able to review our flashcards daily during the week.
For More Information:
For more information on Memoria Press, please visit their website.  You can also find out more on Instagram, Facebook, Twitter, and Instagram.  You can read more reviews on this product and a couple other products by Memoria Press by visiting clicking the banner below.