As I've mentioned before, I am part of the Schoolhouse Review Crew.  It's been such an amazing opportunity to review homeschool curriculum!  The latest in curriculum options that we have received as part of the Schoolhouse Review Crew is the Book of Astronomy Set by Memoria Press.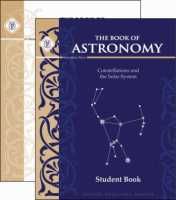 About the Product:
The Book of Astronomy set includes The Book of Astronomy Student Book and Teacher Guide. The Book of Astronomy Student Book is 164 pages.  The Student Book is made up of 4 units, an appendix, planet facts info sheet, zodiac chart, and even a pronunciation guide.  Inside of each unit is numerous areas of study including constellations, stars, and the solar system.
The Teacher Guide is very similar to the Student Book, only it has the answers, of course.  In the back, there are also Tests that you can copy for your student and the answers, and sheets that can be printed on overheads to make it suitable for classroom usage.
The Book of Astronomy encourages students to stand and recipe the 15 brightest starts with their constellations, 12 Zodiak constellations in Latin and English, and 8 planets.
The Book of Astronomy set is geared toward third through fifth graders.  That makes it perfect for a family that needs to sit down with multiple aged children, when you buy extra workbooks.
The reading book and work book is combined so that you can work the different lessons while you are learning.
The Book of Astronomy Set can also be paired with D' Aulaires' Book of Greek Myths to further enhance learning.  You can find this set made by Memoria Press on their website as well.
My Thoughts:
My kids have actually been asking to study astronomy for a while so I was very thankful to have the opportunity to check out the Book of Astronomy Set.  I used this set with my third grader.
I love curriculum where I can be learning as well when I teach my kids.  I don't remember learning anything about astronomy as a child, so this has been fun for me.  My favorite part of the student book is the pronunciation guide.  Let's just say it was very much needed since I was way off in the ways I thought things were pronounced.
We found the books fun and easy to work through.  It wasn't overly complicated and worked well for my third grader.
Since we started learning about different parts of astronomy, I have noticed my kids looking toward the stars more often at night. They have been trying to identify the various stars and constellations that we have been studying.  I think a trip to a planetarium is in our near future to go along with this curriculum!  I also like the fact that they are leaning the English and Latin words for the constellations.
More Information:
For more information on The Book of Astronomy set, you can visit Memoria Press on Facebook, Twitter, Instagram, LinkedIn, Pinterest, or Google+.
You can also view more posts by the Schoolhouse Review Crew on this program, or on 2 other programs that they offer – Traditional Logic I Complete Set  and D'Aulaires' Greek Myths – by clicking the banner below.