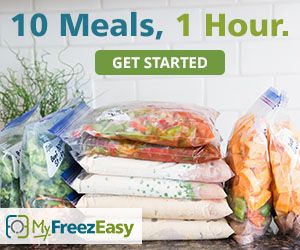 With 5 kids in the house, homeschooling,  gymnastics, scouts, co-ops, and more, dinner can be quite hectic around here at times!  I have been checking out the 
MyFreezEasy.com Freezer Meal Plan Membership 
from 
MyFreezEasy
 as part of the Homeschool Review Crew.
About MyFreezEasy:

With a
MyFreezEasy.com membership
, you have access to 8 different meal plans every month filled with NEW recipes!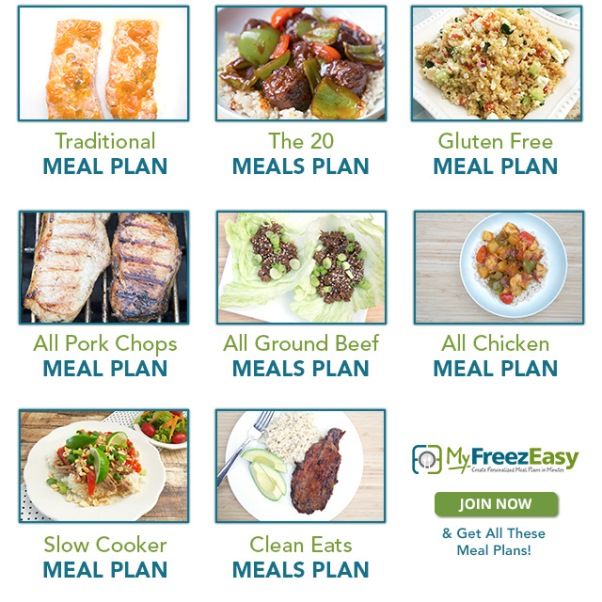 Traditional Plan – 10 meals: mix of different types of meals
Gluten-Free Plan – 10 meals: completely gluten-free including sides
Slow Cooker Plan – 10 meals: all freezer to slow cooker style
Clean Eats Plan – 10 meals: all "clean ingredients"
20 Meals Plan – 20 meals: mix of different types of meals
All Chicken Plan – 10 meals: all recipes using chicken breasts/chicken thighs, so you can get the chicken on sale and stock your freezer
All Ground Beef Plan – 10 meals: all recipes using ground beef so you can get the ground beef on sale and stock your freezer
All Pork Chops Plan – 10 meals: all recipes using pork chops or pork tenderloin so you can get the pork on sale and stock your freezer
In addition to the meal plans, members also receive complete shopping lists, assembly details, printable labels, highlight videos, instructional assembly videos, and even adaptations for dairy and gluten free diets.
Our Experience:
MyFreezEasy.com has been my first experience with a freezer cooking meal plan.  I often make our meals doubled so I can freeze and extra pan of something, but hadn't considered taking the time to make a big batch of meals to keep in the freezer.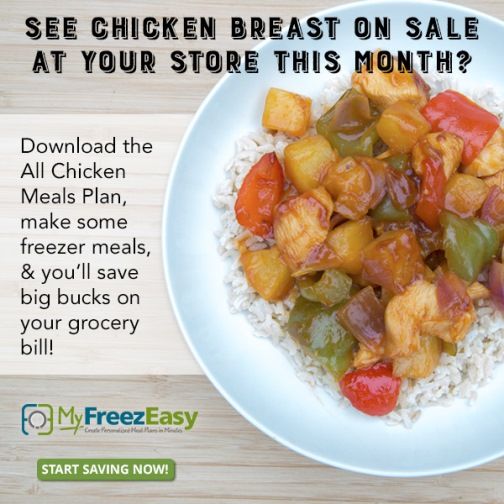 Right off the bat, I was thrilled with the way you can choose recipes on the website.  With the membership we were given, I was able to select and remove meals that didn't sound appealing to our family.  For September, I chose from the All Chicken Plan since we mostly eat chicken and chicken has been on sale here lately.  For the October plan, I chose the Slow Cooker Meal Plan.
We went with the following meals from September:
Bacon & Ranch Chicken
Basil Balsamic Chicken
Chicken Fajita Bake
Chicken Pineapple Curry
Slow Cooker Butter Chicken
October's Slow Cooker Meal Plan featured these meals:
Slow Cooker Italian Chicken & Vegetables
Slow Cooker Red Pepper Chicken
Slow Cooker Island Chicken
Slow Cooker Simple Baby Beef Stew
Slow Cooker French Dip Sandwiches.
I really like that the shopping list is included and that with the premium membership, I can select to feed more than 4 people and receive the conversions for a larger group.  That comes in handy when you're a family of 7 plus Grandma most nights.
We enjoyed the meals that we tried, however I would have appreciated a little more flavor.  Since we have been mostly cooking from scratch over the past 6 years after finding out about my son's allergy, I have learned how wonderful it is to pull from the spice cabinet instead of store-bought packets and mixes.
I agree with the concept and that the recipes are pretty simple.  Perfect for a busy family.  Having frozen meals ready to heat and serve comes in handy when you're looking to minister to friends going through hard times as well.  You could simply pull out a meal to cook for them, or you could simply provide the frozen meal and instructions for them to cook when needed.  Definitely a wonderful service!
For More Information:
For more information, you can visit the MyFreezEasy website.  You can also find out more on their Facebook, Instagram, and Pinterest.
You can also read other's reviews of MyFreezeEasy.com by clicking the banner below.