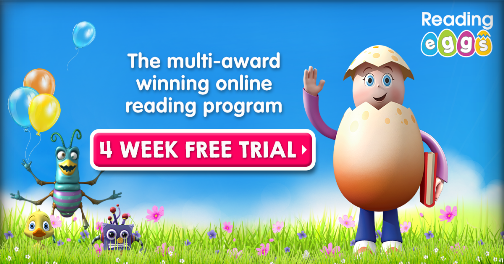 My 1st and 2nd grade girls have been using the online reading program,
Reading Eggs
 for the past several years with great success.  Now we have even added it for our toddler to enjoy and learn!
About the Program:
With programs for children ages 2-13, Reading Eggs is the perfect online program for learning phonics, or just extra reading practice.  Through appealing games, activities, and fun, kids can perfect their reading skills.  There are 4 different programs available on Reading Eggs that you can check out:
Reading Eggs Junior is geared toward ages 2-4 years old and utilizes read-alouds, videos and games for toddlers.
Reading Eggs is designed for ages 3-7.  This self paced program uses activities, games, videos, and earning gold eggs to motivate the younger readers.
Reading Eggspress helps grades first through 6th practice their reading skills and comprehension as well.  Games, Activities, and Online Books are used at this level.
MathSeeds is a fun program designed for kids ages 3-9 to practice core math and problem solving skills.
Beyond just an online reading program, members also have access to a Homeschool Program Guide to help shape and schedule learning for Kindergarten-2nd grade students.  There are a bunch of printables available to members as well.
Our Thoughts:
As I mentioned above, my girls have been using this program for several years.  We started Reading Eggs when we decided to hold my then 6 year old back in Kindergarten.  She just wasn't ready to start reading and had a hard time making sense of letters.  It was a major struggle.  Reading Eggs was able to make the concepts fun and into a game instead of just constantly practicing reading.  After seeing such success with one child, we went ahead and started our then 4 year old on the program.  Our goal was to hopefully get her a head start on reading and it certainly worked!
Now the girls are 6 and 8 and in 1st and 2nd grade and doing super well!  My 8 year old has recently completed all of the Reading Eggs program and is now working on Reading Eggspress.  I like that it tests her on her reading comprehension to make sure she understands what she is reading and not just reciting words.  My 6 year old is more than halfway through the Reading Eggs program and doing great, too!  I really like that it has quizzes throughout the program and holds them back if they haven't mastered a topic.
I also have just started Reading Eggs Junior with my 2 year old.  He's a young 2, so he doesn't have a long attention span, but he enjoys watching the videos and having me read to him.
Another neat feature of the program is that it will periodically email me when my kids have completed a task or moved on to a new level.  Parents can also log in at any time to see how their child is currently doing or see their current "reading age.
The program can be used on iPads as well as computers, so that's a big plus for our family!
For More Information:
Interested in trying it out?  Reading Eggs is currently offering a
FREE 4 week trial
so you can see if it is a fit for your family.  It's one that I plan to continue with my younger kids until they master all of the concepts.
For more information, you can visit the Reading Eggs website.  You can also find out more on Facebook, Instagram, Twitter, Pinterest, and YouTube.  You can also read more reviews on this product and others from the Homeschool Review Crew by clicking the banner below.